Feedback - Compliments, complaints and concerns
HYCS is committed to providing a professional counselling service to young people. We listen and respond to the views of young people and those who use or work with the service, so that we can continue to improve our service. 
If you are a client, do please fill in one of our client evaluation forms at the end of your counselling - your counsellor should give you a copy to fill in or you can complete it online or download a copy - links below:

- Online Client Evaluation Form - Fill in online form, click this link.

- Download Client Evaluation Form - click this link.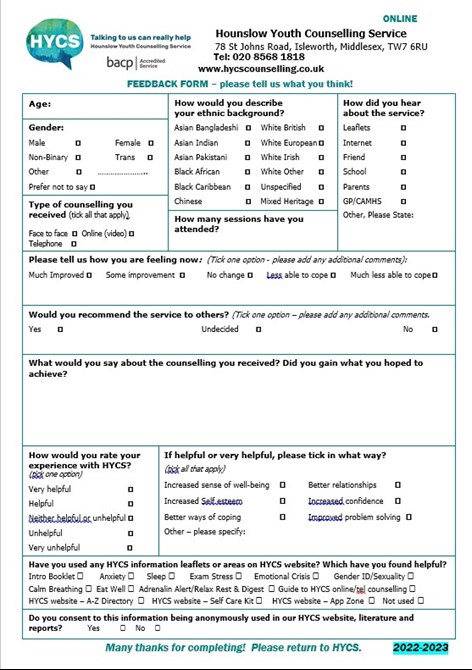 If you have any other feedback whether it be compliments, concerns or suggestions to improve our service or feel that your needs are not being met, please contact Patricia David, HYCS' Service Manager at ask@hycscounselling.co.uk.
If you are dissatisfied with the service you have received at Hounslow Youth Counselling Service, we would like to know and to have the opportunity to address your concerns - our full complaints procedure is outlined in the link.