HYCS Wins Top National Award for Excellence #GSKIMPACTUK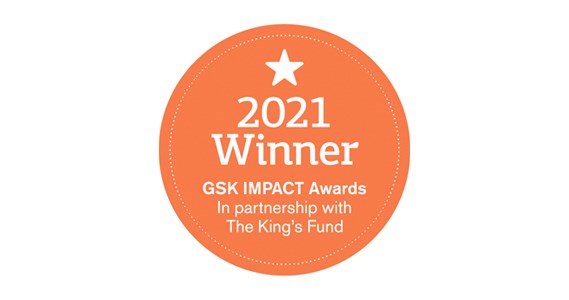 Hounslow Youth Counselling Service (HYCS) has won a major national award for its work providing free counselling to young people who live, work or study in the borough.  The award was announced 27/4/21 and was presented at a ceremony on 14/9/21.
Link here to our winners film.
Following a rigorous selection and assessment process, HYCS was chosen from more than 350 charities across the UK as one of the 10 winners of the 2021 GSK IMPACT Awards. The awards are designed to recognise the outstanding work of small and medium sized charities working to improve health and wellbeing in communities across the UK. Winners receive £30,000, expert support and leadership development provided by leading health and care charity The King's Fund.
The Covid-19 pandemic has driven an increase in the number of people who need support from local charities, while also making it harder to deliver services and raise much needed funds.
Even before the pandemic began, HYCS was seeing an increase in young people needing its support and delivered over 5,000 counselling sessions in 2019/20. Many counselling services have long waiting lists, and to make sure young people receive a fast response when they reach out for help, the charity ensures everyone contacting them is seen and assessed within two weeks. The charity also offers immediate access to youth-focused mini self-help guides on issues such as managing anxiety, stress, help with sleep, mood and food. It has created a self-help hub which is freely available to access which puts well-being support tools into the hands of young people.
HYCS is open to children and young people aged 11 to 25, and works hard to ensure its support is accessible to young carers, young parents, young people from ethnic minority backgrounds and LGBT+ young people. HYCS works with the NHS, schools, local council and other agencies to provide specialist services, including support for care leavers, work with the borough's Pupil Referral Unit and a counselling service in Feltham Young Offenders Institute.  
Commenting on the award, Patricia David, Service Manager at HYCS, said:
"We are absolutely delighted to have won this great accolade. It feels wonderful to be rewarded for all the hard work that the staff and counsellors have done in supporting the young people of Hounslow borough, especially over this very difficult recent period."
Katie Pinnock, Director of UK Charitable Partnerships at GSK, said:
"We were inspired by Hounslow Youth Counselling Service's approach to helping young people throughout the community, providing a flexible and high-quality counselling service. Young people can access its services directly, and it also works with secondary schools and Feltham Young Offenders' Institute to reach young people with complex support needs. We were really struck by the charity's commitment to helping everyone in need throughout the borough, providing dedicated and non-judgemental services."
The 2021 GSK IMPACT Award recognises HYCS's significant impact in the community and its commitment to health and wellbeing in Hounslow.
Developing leaders in the charity sector is a key aim of the GSK IMPACT Awards programme and all winners are invited to build on their success and take part in a tailored leadership development programme run by The King's Fund. HYCS will also be invited to join the GSK IMPACT Awards Network, a UK wide network of over 95 previous award winners who work together to develop leaders, find new ways of working and provide mutual support.