SPECIALIST SUPPORT RESOURCES & INFORMATION for anyone affected by issues of abuse, sexual assault, harassment or rape.
NSPCC Dedicated Support Line 'Report Abuse in Education'
0800 136 663, or by emailing  help@nspcc.org.uk.
A dedicated NSPCC Helpline for victims of sexual abuse to provide support , advice and onward action including contacting professionals or the police if they wish.  Called 'Report Abuse in Education', it was launched 1 April '21 by the government in association with NSPCC following revelations via the Everyone's Invited site. 
The line is open to children, young people and adult victims of sexual abuse and can also provide support to parents and professionals too.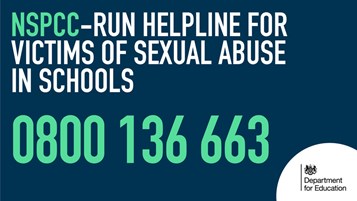 ABOUT CONSENT

Brook
Information about consent - click on links below:
- How To Give and Get Consent -
- Consent - Myths and Facts - 

Consent is Everything - 
"Sexual consent is where a person has the ability and freedom to agree to sexual activity".   Rape is sexual activity without consent.  This simple video called 'Tea and Consent simply explains what consent is (and isn't).

SUPPORT ORGANISATIONS – SEXUAL ASSAULT, HARASSMENT OR RAPE

Galop  - 020 7704 2040 
LGBTQ+ anti-violence charity, if you've experienced hate crime, sexual violence or domestic abuse.   Support LGBTQ people who have had problems with the police or have questions about the criminal justice system.

The Havens
020 3299 6900 – 24 hours a day, 7 days a week.
Information and support for all ages and for anyone who has been sexually assaulted or raped within the last 12 months; Download their useful self help guide - click here for link.  If longer than 12 months please refer instead to Survivors Gateway.

The Mix - video about visiting a Sexual Assault Referral Centre (SARC) following a sexual assault or rape
This video by The Mix, a site for young people, explains step by step what to expect and your options if you decide to go to a SARC (Sexual Assault Referral Centre).   It is a self referral route which does not involve the police, unless you want it to.  It allows you time to decide what you want to do without any pressure.

NHS - Help After Rape and Sexual Assault  
NHS website - information about what sexual assault is, what to do and options if you have been assaulted, services that can support you including information about the SARC's (sexual assault referral centres).

Childline - Report Remove Tool
Click here for Childline's free tool for under 18's to help remove unwanted nude images that have been shared online.
Rape Crisis  
Provides frontline specialist, independent and confidential services for women and girls of all ages who've experienced any form of sexual violence, at any time in their lives.   Contact to find details of your local centre.
Solace Rape Crisis Helpline - North London
0808 801 0305
The North London Rape Crisis Helpline is a free, anonymous service available to women and girls aged 13+ who have experienced any form of sexual violence at any time: recent or non-recent. They offer a safe and non-judgmental space for women, whether you are already receiving support, awaiting counselling, or speaking out for the first time.

Survivors' Gateway - London  https://survivorsgateway.london/
0808 801 0860
The London Survivors' Gateway offers victims and survivors of rape and sexual abuse aged 13+ help to access specialist services in London.  It provides information on what help is available after rape, sexual assault, sexual abuse or any form of sexual violence and offer support to access these services. They work with anyone aged 13 or above regardless of gender, sexuality, disability, language, ethnicity or immigration status.  If you are a survivor and would like to access their service, please complete an online self-referral form.

Survivors UK  
Chat online or Message +44 7491 816064 on WhatsApp.
Offers a range of support services for male survivors of rape or sexual abuse.  Established for male survivors but also welcomes anyone who identifies as male, trans, non-binary, has identified as male in the past, or anyone who feels that we are the right fit for them.

National Stalking Helpline, Suzy Lamplugh Trust - 0808 802 0300
Advice and information if you fear you are being stalked.

Think U Know http://www.thinkuknow.co.uk/
A site by NCA-CEOP, a UK organisation which protects children both online and offline, offering support and advice so that you can safely enjoy the internet.  Different sites available to suit your age group.  Information on a wide range of issues including the following (click the links below for more information).
Victim Support  http://www.victimsupport.org.uk/
Emotional and practical support for anyone affected by a crime regardless of whether the crime has been reported to the police.

Free, confidential support 24/7, not only for those who experience it directly, but also their friends, family and any other people involved. It doesn't matter when the crime took place – you can get our support at any time, and for however long you need us.

Women and Girls Network - 
0808 801 0660 
advice@wgn.org.uk
WGN are a free service run by women, for women in London who have been affected by all forms of violence and abuse.
Young Women's Service works to create safe and confidential spaces to get support. If you are experiencing or are at risk of experiencing any form of violence against women and girls (VAWG) contact WGN to get support.
ZIPIT App - Childline
If someone's trying to get you to send nudes, use the Zipit app to keep the situation under control.
Respond to unwanted chat with the power of GIFs taken straight from the app. The developers have made our own and chosen a selection of top ones from GIPHY. Use the 'flirting guide' to navigate intimate chats safely, including tips from other young people. Also helps you to 'block it, report it, talk about it' when things go wrong. Available App Store/Google Play.