If you're reading this page, you may already be thinking about getting help.
So if you want support, just pick up the phone to HYCS to request free 1-2-1 counselling support if you are 11-25 and live, study or work in Hounslow Borough.  
Call us on 020 8568 1818.
Remember - you can refer yourself to HYCS but if you would like a friend, parent or trusted adult to help you to contact us, simply call when you are with them. 
Download our brochure here: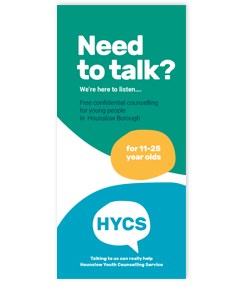 IMPORTANT UPDATE:
Although our current face to face services are limited due to COVID restrictions, we are now offering both new and existing clients a range of telephone and video call support options.  Click here for more information.