If you're reading this page, you may already be thinking about getting help. 

If you want support and it's not an emergency, pick up the phone to HYCS 020 8568 1818 to request 1-2-1 counselling support, available free if you are aged 11-25* and live, study or work in Hounslow Borough.  We can book you in for an intro' session and take it from there.

You don't need an adult or health professional to refer you to HYCS but if you would like a friend or parent to help you to contact us, call when you are with them. If you would prefer us to call you, just email with your contact details.
If things are feeling really difficult for you and if it is urgent so you need immediate support - look at our emotional crisis leaflet for 24 hour services and guidance.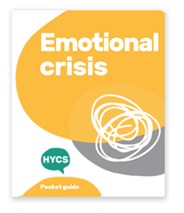 Just click on image to link to the leaflet.
* Please note, unfortunately we cannot register you for counselling if there is less than 6 months until your 26th birthday.